Sustainable materials / A SUSTAINABLE CHOICE
Sourcing sustainable materials is extremely interesting, but is also very challenging, it is not as straightforward as with conventional materials, it is still a new direction and it is depending on the drive of passionate inventors.
Dedicated developers who see the problems caused by the fashion industry and trying to do better, trying to think different – not only thinking organic solutions but also seeing the value of reusing waste or developing new sustainable methods of processing raw material.
We, at Eksempel, see our sourcing of sustainable materials as work in progress, we can always do better and we are driven by a curiosity of finding the most sustainable choice.
There are a lot of different opinions and myths on what sustainable is; one fabric can be produced by the strictest rules, but still have a high impact on the environment, a raw material can be easy to grow but very toxic to process. It is a constant evaluation of cost for the environment, the qualities of the fabric and a dialogue with our customers.
Visiting fairs to seek out new suppliers, using our network to share knowledge, doing seminars and seeking information about the development within sustainability. Constantly in dialogue with our suppliers and discussing the impact of the choices we make.
GOTS certified
The standard covers the processing, manufacturing, packaging, labelling, trading and distribution of all textiles made from at least 70/95 % certified organic natural fibres, depending on the Label-grades:
Label-grade 1: 'organic'
≥ 95% certified organic fibres, ≤ 5 % non-organic natural or synthetic fibres
Label-grade 2: 'made with X% organic'
≥ 70% certified organic fibres, ≤ 30 % non organic fibres, but a maximum of 10% synthetic fibres.
The aim of the standard is to ensure the textiles are made using raw organic materials and environmentally and socially responsible methods.
Environmental Criteria
/ At all stages through the processing organic fibre products must be separated from conventional fibre products and must to be clearly identified
/ All chemical inputs (e.g. dyes, auxiliaries and process chemicals) must be evaluated and meeting basic requirements on toxicity and biodegradability/eliminability
/ Prohibition of critical inputs such as toxic heavy metals, formaldehyde, aromatic solvents, functional nano particles, genetically modified organisms (GMO) and their enzymes
/ The use of synthetic sizing agents is restricted; knitting and weaving oils must not contain heavy metals
/ Bleaches must be based on oxygen (no chlorine bleaching)
/ Azo dyes that release carcinogenic amine compounds are prohibited
/ Discharge printing methods using aromatic solvents and plastisol printing methods using phthalates and PVC are prohibited
/ Restrictions for accessories (e.g. no PVC, nickel or chrome permitted)
/ All operators must have an environmental policy including target goals and procedures to minimise waste and discharges
/ Wet processing units must keep full records of the use of chemicals, energy, water consumption and waste water treatment, including the disposal of sludge. The waste water from all wet processing units must be treated in a functional waste water treatment plant.
Social Criteria:
GOTS also include Social criteria based on the key norms of the International Labour Organisation (ILO),such as but not limited to :
Employment is freely chosen
C29 - Forced Labour Convention
Working conditions are safe and hygienic
C155 - Occupational Safety and Health Convention
Child labour must not be used
C138 - Minimum Age Convention
Harsh or inhumane treatment is prohibited
C29 - Forced Labour Convention
For more information on this standard please visit the website: www.global-standard.org
Organic materials
Organic fabric means that the raw material has been grown in controlled settings according to strict guidelines with no pesticides, herbicides, or other chemicals. Only natural fertilizers are used and the soil and water are monitored. It does not say anything about the proces of weave and dye.
A good alternative to the above is to chose GOTS certified, which includes all aspects of the supply chain, from the regulations concerning growing the raw material to processing, manufacturing and work conditions, read more about GOTS below.
But to achieve the GOTS certification, all steps of the products chain have to be certified. The silk used on the Organic Silk Blouse is not GOTS certified, although all involved production companies of the silk are GOTS certified (spinning, dyeing, knitting and weaving). Since the dealer chain is not completely certified, the product cannot be offered as "GOTS certified" by Seidentraum. Nevertheless, it is a matter of high-quality organic quality, which guarantees the highest possible standard for ecological and social sustainability.
Oeko-Tex
The Oeko-Tex 100 Standard tells about how the fabric is processed, including things like dyes and finishes. Oeko-Tex textiles and fabrics are certified free of harmful chemicals and are safe for human use, but the fabric is not of organic origin.
OEKO-TEX® is an international association of independent research and testing institutes focused on enhancing both product safety and sustainable production in the textile industry.
For more information on the standard please visit website: www.oeko-tex.com
Recycled
Recycled fabrics and yarns are made of post consumer or pre consumer waste. Post consumer waste can be your old jeans or your plastic bottles. Or it can be pre consumer waste from manufacturing garments, meaning all the leftovers pieces of fabric from the cutting process.
The waste is sorted by color and re-spun into yarn. The process reduces significantly the impact on the environment by reduced dye pollution, minimum use of virgin material and saves energy and water use.
Lyocell bamboo / Regenerated fibres
Lyocell bamboo has the highest possible classification for regenerated fibres (class B) in the Made-by environmental fibre benchmark, and is considered more environmentally friendly than other lyocell products that are based on forest trees.
Bamboo used for the Expert Fibres fibre, grows naturally in abundance. It is harvested by hand and carried manually to collection points. The selected bamboo species does not require any irrigation, pesticides or fertilizers, and does not repress food production as it thrives in barren soil conditions not suitable for food crops.
The closed loop lyocell technique significantly reduces water consumption and also eliminates the use of hazardous chemicals by using the organic solvent NMMNO in the production process. This solution is recycled and reused, along with the water involved in the process. Thus, there are no residues of harmful chemicals, and the process results in long, strong and durable fibres.
The Benchmark for Fibres
The Fibre Benchmark compares the environmental impact of the most commonly used fibres in the garment industry, supporting you to shift to more sustainable alternatives.
The Methodology behind the Benchmark
"By looking at the production process of natural and man-made fibres and associated human and environmental impacts, we ranked 28 fibres on six common parameters.
The six parameters have been given different weights in terms of impact. Greenhouse gas emissions human toxicity and eco-toxicity are weighted to 20% each, while energy, water and land use has been given a 13.33% weighting.
Based on these parameters, each fibre was scored and placed into one of five classifications: Class A to Class E. An additional category, 'Unclassified', has been added, in which fibres that are not (yet) part of this Benchmark are listed due to a lack of available robust data. Over time, we aim to incorporate these fibres into one of the five defined classes as further information becomes available."
Source: www.made-by.org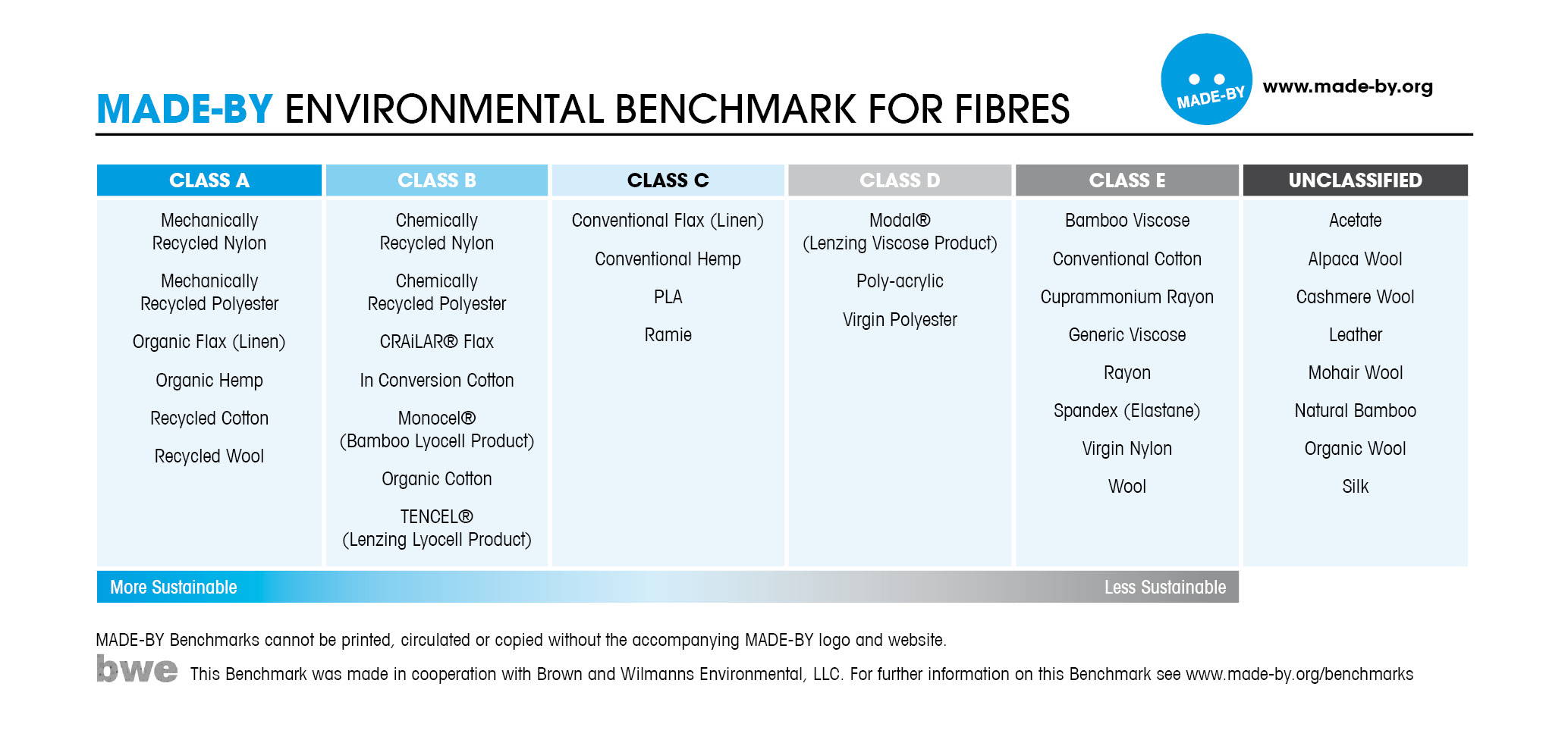 Our products
Our products are not certified GOTS or Oeko-Tex 100. If a certification is mentioned, it means that the fabric and or trim is certified.